Punjab Pradesh Congress Committee President and Member of Parliament from Gurdaspur Mr. Sunil Jakhar, today dared the President of Shiromani Akali Dal (SAD) and the former Deputy Chief Minister to clarify his role in the Behbal Kalan firing and his relationship with Dera. Calling him Sukhbir Singh Insa, Jakhar said that Sukhbir cannot escape from the responsibility of events that happened during his regime. While addressing a public rally here today in the presence of MLA Sukhpal Singh Bhullar and former minister Mr. Gurchet Singh Bhullar, Mr. Sunil Jakhar said that all Punjabis are seeking answers from SAD leader Sukhbir Singh Insa, of a simple question that who ordered firing at Behbal Kalan but instead of clarifying truth, SAD leaders are feigning rallies .
"Many senior leaders of the Akali Dal have already raised their voice on the decisions of the previous SAD government. Will Sukhbir Singh Badal now conduct rallies in front of their door too?" he asked the SAD president. He said that Punjab has a history that those who betrayed panth were never forgiven, whereas Mr. Sukhbir Singh Badal has betrayed his religion for his vested political interests. Mr. Sunil Jakhar reminded to gathering of thousands of people that due to the adulteration in the pesticides during SAD rule in 2015, the farmers were holding agitation when whitefly devoured cotton crop.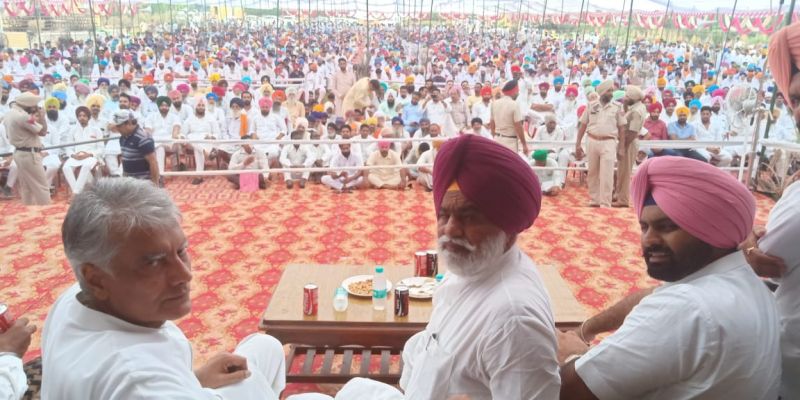 The state has suffered huge losses during 10 years of SAD-BJP rule
He further said that at the same time large-scale protests were being held in Malwa against the movie of Dera chief, even the train services were badly affected by protesters. Despite that Badal's government did not show any rush to lift the dharnas anywhere across the state, then why SAD government ordered firing on those few people who were just sitting peacefully in the remote village of state? Mr. Jakhar said that as per the decision taken by the Punjab government led by Capt. Amrinder Singh in the Assembly, the law of land will deal with those, who were found guilty for Behbal Kalan firing and incidents of sacrileges of Guru Granth Sahibj ji. 
Punjab Pradesh Congress Committee President also opened the secrets of loot of the Modi government of center on this occasion. He said that when the Congress government was at the Center, Manmohan Singh government had provided cheapest diesel and petrol to the citizens of the country even by purchasing expensive crude oil from abroad. But the Modi government is selling expensive diesel by buying cheap crude oil since last four years.
He said that the increase of MSP by Union Government even could not match the extra cost of crop production due to hike in diesel prices since last year. He said that against the inflation of diesel and other commodities, the Congress has called Bharat Bandh on Sep 10 and State Congress will participate in Bandh call with peaceful manner. Mr. Jakhar said that the state has suffered huge losses during 10 year of SAD-BJP rule and even on the last day SAD-BJP government put burden of Rs 31000 crore on state by accepting Union Government deal regarding food grain procurement account mismatch happened due to misdeeds of SAD rule.